Single Sign On / Off (SSO)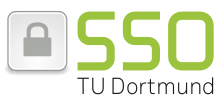 At TU Dortmund University, there are various services for which you, as a TU member, must log in with your UniAccount. Many of these services are connected to the SSO.
The advantage of this login procedure is that you only have to log in once and are thus directly connected to all services connected to the SSO. No further login is necessary. You should note, however, that you log out of all services simultaneously with one logout.
Because this login procedure is controlled centrally and is only valid for TU Dortmund University, a very high level of security is guaranteed. If you want to increase this security even more, you can use the logon via the UniCard certificates, as this logon also requires the card.
A session via SSO ends after 4 hours of inactivity.
The TU Dortmund University services currently connected to the SSO:
Confluence
LSF
ServicePortal
Moodle
LimeSurvey
zhb - Foreign languages area
Further services will be added soon.
These services can be recognised by this symbol: